Aim of the project
ProCAncer-I's vision is to deliver a PCa AI platform featuring a unique collection of PCa mpMRI images worldwide, in terms of data quantity, quality and diversity; to focus on delivering novel AI clinical tools based on a three-stage ensemble modelling process for advancing characterization o fPCa lesions, assessment of the metastatic potential, and early detection of disease recurrence; to design and seamlessly integrate an open-source framework for the development, sharing and deployment of AI models and tools exploiting the evolving annotate& and interoperable data in the platform's repository; to contribute in the increase of the trust in PCa AI tools by introducing AI model interpretability functionality and delivering a complete technological, organizational, and legislative framework for model evaluation through interaction and engagement of relevant regulatory authorities; to develop a concrete plan to sustain and exploit project results.
ProCAncer-I's vision is to become a catalyst in this area by creating the first European, ethical- and GDPR (General Data Protection Regulation) compliant, quality-controlled, prostate related, medical imaging platform, in which both large-scale data and AI algorithms will co-exist. The proposed AI Platform, integrating imaging data and models, is expected to accelerate the advancement in PCa precision care through prostate cancer's continuum. To this end, the ProstateNET dataset featuring an unprecedented 1.5 million image representations of prostate cancer will be created within a sustainable AI cloud-based platform for the development, implementation, verification and validation of trustable, usable and reliable AI models for addressing specific PCa needs regarding over-diagnosis and suboptimal care provision. In order to go beyond the state-of-the-art and increase trust in AI for PCa, a composite AI modelling methodology comprising both vendor-specific and vendor neutral models will be introduced and thoroughly evaluated.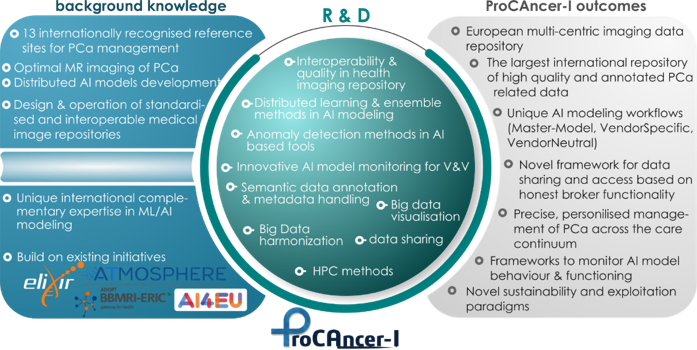 Figure 1: Background knowledge and main outcomes of ProCAncer-I 
ProCAncer-I's mission is to develop this platform in a sustainable and inclusive way, by connecting the community of prostate cancer professionals, radiologists, researchers, AI developers, patients and relevant industry parties based on creating value and reciprocity in use.  
To achieve our mission, the ProCAncer-I proposal has been developed applying five overarching principles: 
Availability of data and algorithms, which will be stored in a safe and a legal- and ethical compliant way, easily retrievable, following principles of controlled access and the FAIR principles (findability, accessibility, interoperability and reusability)

9

by all relevant stakeholders. This will be realized by building upon a) B3D's ISO27001 accredited data center – providing security, redundancy, reliability and scalability and b) existing infrastructure and services to ensure a seamless user experience; Data assets will be exposed on a semantically harmonized, searchable and browsable metadata catalogue based on open standards including FAIR ones.

Functionality in terms of unique, high-quality data (pre)processing and search tools based on state-of-the-art AI methods. ProCAncer-I will facilitate demonstrator use cases to validate the added value and usability of the platform for various users within the community;  Several concrete and clinically relevant use cases have been defined, which have guided the process of data selection, i.e. making sure that our datasets are unique in terms of data quantity, data quality and data diversity.

Trust in the AI solutions among users. The ProCAncer-I proposes a well-defined validation framework of the AI-based solutions and models. The project workplan introduces specific performance metrics and evaluation criteria to be used for the monitoring of the performance of the models.  ProCAncer-I is particularly focusing on developing novel, beyond current SoA approaches regarding how the AI-based solutions will deal with and inform about possible failures, inaccuracies and errors.

Value for contributors and users of data and AI algorithms. Our usage patterns provide bi-directional value streams for contributors and users. Our community-based model will ensure that the right incentives are given to -and provided by- the right stakeholders to create value that goes beyond 'traditional infrastructure'; We will establish an honest broker mechanism to make sure that transparent processes for controlled access to the data assets in the ProCAncer-I repository are established.

Sustainability in terms of accessibility, trustworthiness and affordability which will drive continuous use during and after the project based also on the customer portfolio.
Based on this novel infrastructure ProCAncer-I will address specific clinical questions regarding precision diagnosis, identification of clinically significant disease, early prediction of metastasis and recurrence and increase trust in such AI models by adopting a multi-center, multi-stage model development.